Myka Johnson

REALTOR

in Oklahoma City, OK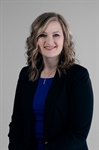 Professional Designations
REALTOR
Expertise Types
Buyer Broker, Single Family Homes
Myka is from Dale, Ok and currently resides in Shawnee. She is married to Justin and has two furry children, Kira and Chase. Myka received an associates degree from Rose State College and a Bachelor's Degree in Marketing, with a minor in Business Management, from Oklahoma State University.
Myka'a career began in college recruiting and quickly transitioned into professional recruiting for Paycom, located in Oklahoma City. She has also worked as the event coordinator and administrator for her church in Prague, Oklahoma. Myka has spent her professional career building relationships and recruiting team players, her background in management and recruiting allows her to be a thorough advocate for her clients.
Myka enjoys listening to Ella Fitzgerald and Bing Crosby on vinyl while she works and has held a black belt in Tae Kwon Do since 2011. She has been teaching the sport for the last two years, and is sure to help you "knock out" the competition while acting as your agent.